Architecture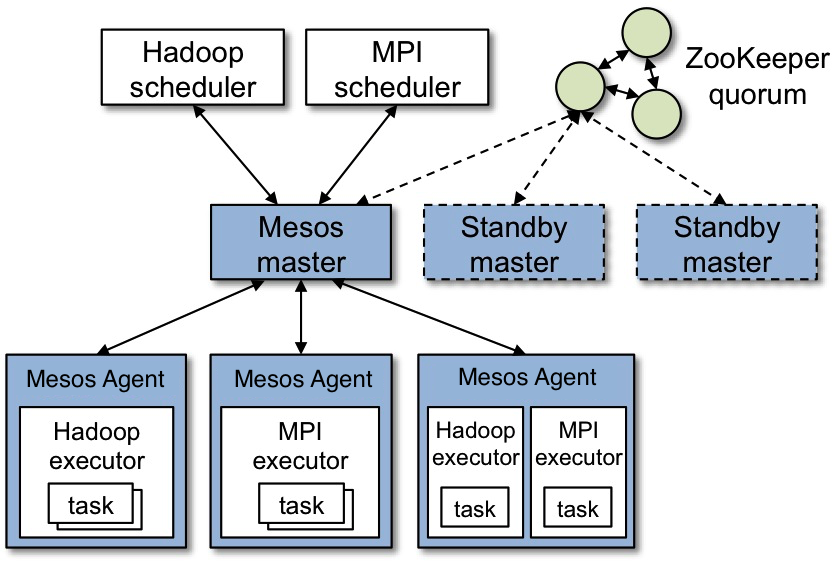 Components
Mesos Master
Mesos Agent Nodes
Zookeeper
Frameworks
Defining an application
Individual app
Application Group
RSVP App
Database
{
  "id": "mongodb",
  "cmd": null,
  "cpus": 1,
  "mem": 128,
  "disk": 0,
  "instances": 1,
  "container": {
    "docker": {
      "image": "mongo:3.3",
      "network": "BRIDGE",
      "portMappings": [
        {
          "containerPort": 27017,
          "protocol": "tcp",
          "servicePort": 27017,
          "name": "mongo"
        }
      ],
      "parameters": []
    },
    "type": "DOCKER",
    "volumes": []
  },
  "env": {
    "MONGODB_DATABASE": "rsvpdata"
  },
  "labels": {},
  "healthChecks": []
}

RSVP
{
  "id": "rsvp",
  "cmd": null,
  "cpus": 1,
  "mem": 128,
  "disk": 0,
  "instances": 1,
  "container": {
    "docker": {
      "image": "teamcloudyuga/rsvpapp",
      "network": "BRIDGE",
      "portMappings": [
        {
          "containerPort": 5000,
          "protocol": "tcp",
          "name": "rsvp"
        }
      ]
    },
    "type": "DOCKER"
  },
  "env": {
    "MONGODB_HOST": "mongodb.marathon.mesos"
  }
}

High availablity of application
Application scales on multiple slave nodes
Service discovery and Load Balancing an application
Mesos-DNS - provides service discovery through the domain name system (DNS).
Marathon-lb - provides port-based service discovery using HAProxy.
Autoscaling an application
Rolling upgrade and rollback of an application
Internally connecting to other application
Networking option to connect applications with-in the cluster
Marathon's Docker integration maps conatiner's port to hpst port
Container does not get invidual IP address.
But with DC/OS 1.8 with Marathon 1.3
Service are built-in with Marathon. The native DC/OS Marathon instance UI is now fully integrated with the DC/OS UI.
Each container gets an IP address with VxLAN based virual network.
DNS Based Service Addresses for Load Balanced Virtual IPs
Accessing the application from external world
Using Load Balancer like HAProxy
Managing storage for application
Persistent Local volume
External Persistent volumes
Demo
Deploy Mesos
$ cd container-orchestration/mesos-marathon
$ export DO_TOKEN=adfvvfvs............
$ vagrant up --provider=digital_ocean
$ vagrant ssh
$ wget https://raw.githubusercontent.com/cloudyuga/container-orchestration/master/mesos-marathon/deploy.sh
$ https://raw.githubusercontent.com/cloudyuga/container-orchestration/master/mesos-marathon/docker-compose.yml
$ sh delpoy.sh

Deploy the application
Open the Marathon GUI from your workstation
$ open http://$HOST_IP:8080

Deploy mongodb and rsvp containers using following json files
Destroy the setup
$ vagrant destory -f